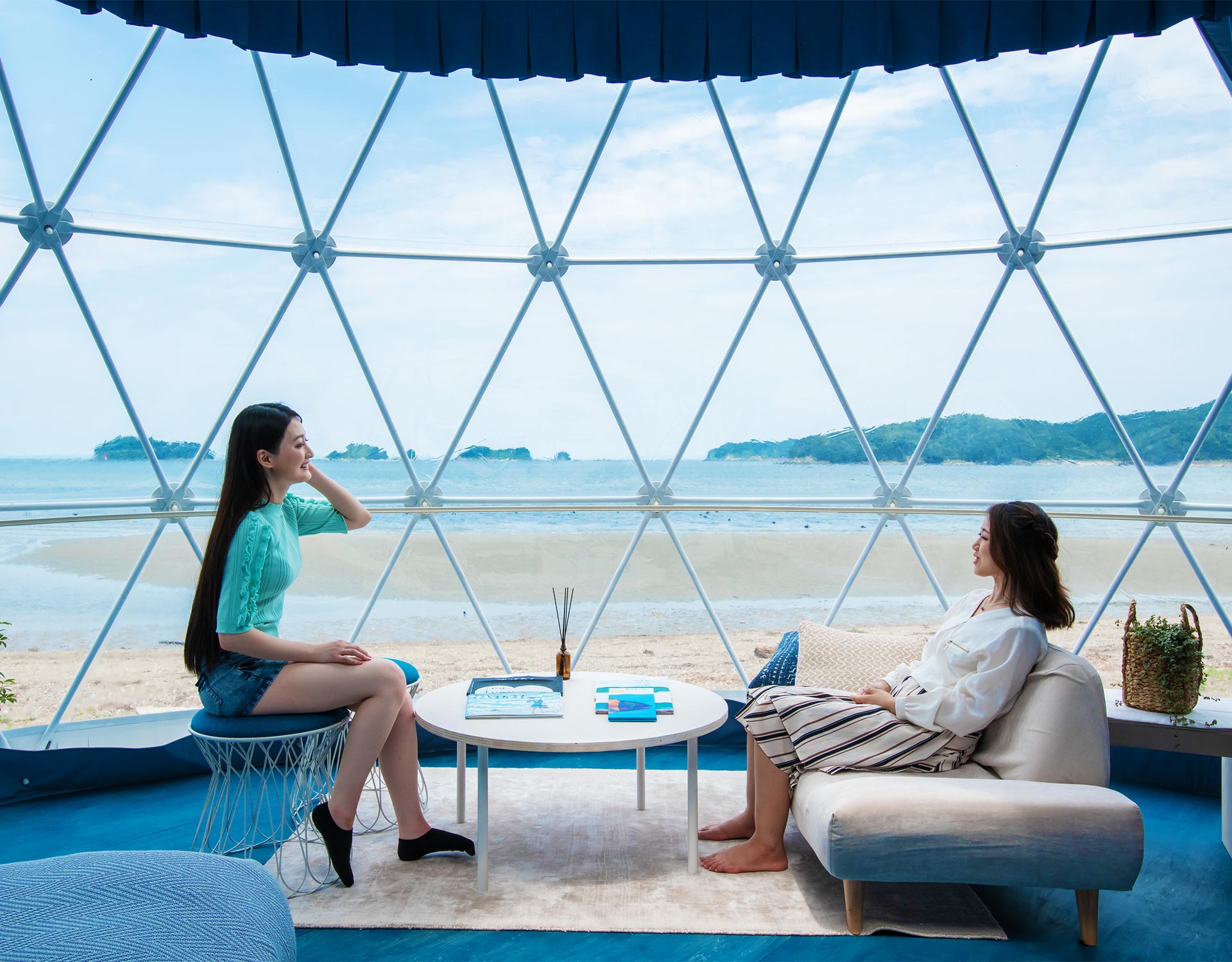 Glamping on a private beach in Iseshima
A private beach with shallow, calm waters.
Among the 125 buildings of the Ise Jingu Inner Shrine, Awamiko Shrine, standing quietly on a cape, is the one closest to the seashore.
Glamp Ocean Iseshima was inaugurated in July 2020 as a glamping resort on a private beach guarded by the Awamiko Shrine.

The dome-style rooms are as comfortable and luxurious as those you'd find in a hotel.
While preserving the surrounding natural formations, we provide comfortable service so that you can enjoy the great outdoors with all your senses.
Two Areas

Glamp Ocean Iseshima is divided into two sections: the Bay Area and the Seaside Area.
The Seaside Area, located by the seashore, is open and airy.
The Bay Area, surrounded by beach woods, is more private and peaceful.
Both allow you to experience the ocean nearby.

Guest Rooms

Five domes stand in the Seaside Area, each with a specific theme between sea, wind, earth, wood, and white.
The interior of each accommodation is decorated with one-of-a-kind lamps and furniture.
The open windows offer an amazing view of the far-reaching horizon.

The Bay Area hosts two types of domes: one that can accommodate two guests and one that can accommodate up to four.
You can select the type of dome based on how many of you will be staying with us.
Grilling is also allowed on the private decks adjacent to each dome.

Cuisine

Iseshima is a remarkable pantry of ingredients.
Our young and upcoming chefs oversaw a special barbecue menu using carefully selected ingredients such as seafood, meat, and vegetables nurtured by nature.
Enjoy our barbecue experience in the seaside dining room with the sound of waves playing in the background.